• 200Wh useable capacity
• NEMA plug NOT required
• Available as portable power bank QIKPAC CARRY
OE's QIKPAC battery is the center of all things ANIMATE. Utilizing premium lithium-ion cells, a single QIKPAC sports 240Wh – enough to power an individual all day; or a small team for a few hours.
Multiple QIKPACs can be connected to suit any size team or capacity requirement. Create a chain of DC power that can incorporate into almost any scenario to enable entire mobile power delivery systems. Together with a host of accessories and a vast offering of OE power units, the possibilities are endless.
We test every pin on every connection in every socket
All units are manufactured using ISO9001 quality controlled components and practices and are 100% tested before dispatch.

cord options:
• GST08 male to female leads are required to interconnect our DC power products such as the QF30 PSU and TUF-R®/HP . They are available in 0.5m (19.7"), 1m (39.4"), 1.5m (59.1") and 2m (78.7") lengths.
• Or charge with a QIKPAC CHARGER BASE 
• Or create your own charging solution with QIKPAC CONNECTING SHOEs & GST08 cables
materials:
• Polycarbonate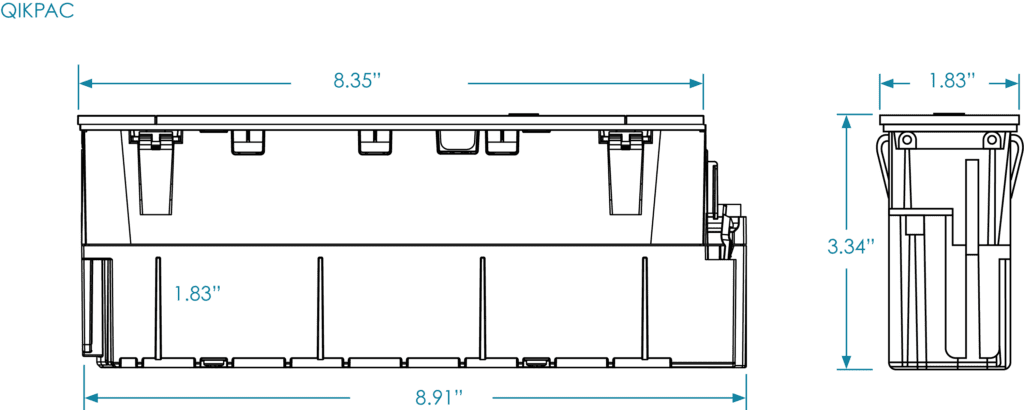 all your questions answered
How long do QIKPACs take to charge?
One QIKPAC Battery will charge in 5-6 hours, for more than one you can divide the useable capacity of the battery (200Wh) by the power of the QF PSU 70W.
1 = 5-6 hours.
2 = 5-6 hours.
3 = 8-9 hours.
4 = 11-12 hours.
How many QIKPAC Batteries will I need to power a… ? 
How many QIKPACs can be connected together?
QIKPACs are built to be stacked with all the internal protections built into the design. If you would like to stack more than 4, then please contact us to discuss to ensure this is done in the most efficient way possible.
How do I know when the QIKPAC is fully charged, can it be overcharged?
All four LEDs will be on solid. It is not possible to overcharge the battery as all the charging is controlled within each QIKPAC.
How long does QIKPAC CARRY last per charge. 
QIKPAC CARRY has enough juice to power your workspace for an entire day.
What is the lifespan of the QIKPAC battery? 
The average lifespan is around 5 years, depending on use. The battery is capable of at lease 1,500 full charge and discharge cycles before the battery health drops below 70%.