ARC-G combines our ARC wireless charging technology with a classic brush grommet for convenient charging and wire management. in a compact housing. ARC-G offers no-fuss mounting, simply secure into a standard 3.15″ grommet hole with the provided locking nut to offer a 2-in-1 wireless charging and cable management solution.
With its 10W maximum output and Qi compatible transmitter coil, ARC-G will provide fast wireless charging on all compatible phones. Available in both white and black, and moulded in high strength polycarbonate, ARC-G is ideal for adding wireless charging capability in public areas as well as offices.
We test every pin on every connection in every socket
All units are manufactured using ISO9001 quality controlled components and practices and are 100% tested before dispatch.

configuration: 1 x brush grommet, 1 x 10W OE ARC 10W Wireless charger module
cord options: Wired standard with a 32" cord (14/3 SJT) to a male GST connector to be used with OE's pluggable GST system and is available by special order wired with a NEMA 5-15 cord and plug. The GSTlead option requires a starter cord: 72" or 108" cord with female GST connector, NEMA plug, and Integral OCP standard. 
materials – body – polycarbonate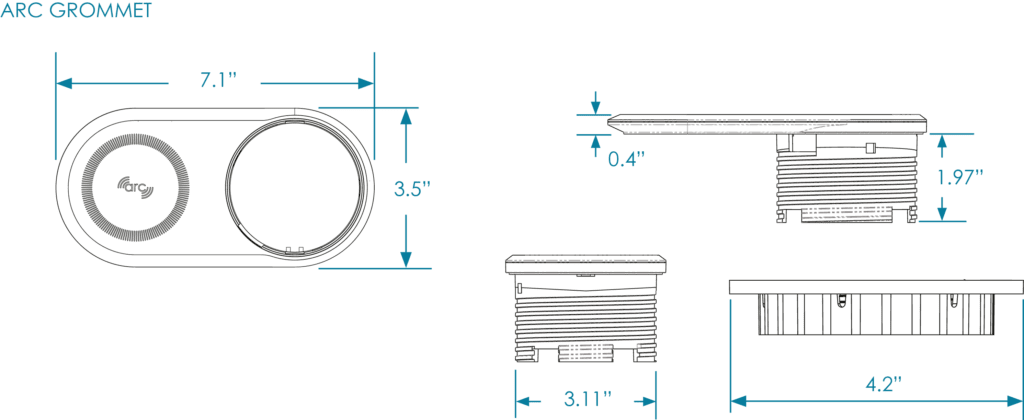 all your questions answered
What sized opening does ARC-G fit into?
What surface thickness is ARC-G suited to?