The QIKPAC Charging cart makes QIKPAC CARRY's all-day portable power possible. Reception assigns a QIKPAC CARRY when welcoming workers and guests. Students and teachers roam campus freely. And Facility Managers no longer wrestle with extension cords to provide last-minute power to events.
QikPac places all-day power in the hands of the people, literally.
We test every pin on every connection in every socket
All units are manufactured using ISO9001 quality controlled components and practices and are 100% tested before dispatch.

QIKPAC CHARGING CART datasheet
cable options:
Detachable – 79"(2M), 118"(3M), or 197"(5M) options 14 AWG SJT 3 core cable with molded Nema 5-15 Plug
to Male GST18/3 with integral 15 over-current protection (OCP).
materials:
• Powder Coated wood frame and steel shelving.

• High strength fire retardant polycarbonate QIKPAC charging components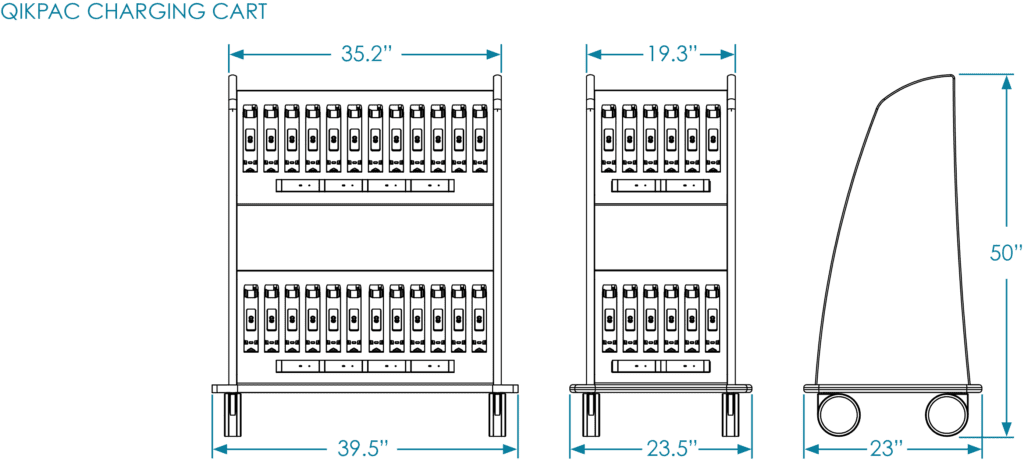 all your questions answered
What size is the CHARGING CART available in
Is the cart available as a stand-alone unit?
The QIKPAC Charging cart is available with or without batteries.
What color options exist for this product?
Standard finishes include White and White, Silver or Gray and White, and Black and Black combinations.