• Minimalist, low-profile design
• Simple installation into 76-80mm (2.92"-3.15") grommet
• Configure with QF05 TUF-HP USB-A and 60W USB-C charger, or Data/AV options
QF PORT is a simple yet flexible solution to offering high power USB charging and Data/AV to furniture. Designed to fit an industry standard 3.15"(80mm)* diameter opening, QF PORT provides a simple means to power a wide range of furniture. Available in a white or black textured finish, QF PORT is a low profile power and data solution that will complement any surface.
Outfit your unit with one or two of our QF05 TUF-R HP high power charging modules and pair it with a concealed QF30 PSU (Power Supply) or portable power QIKPAC battery, and  QF PORT becomes the ultimate laptop power solution. Whatever you prefer as your base of operation, QIKFIT PORT has you covered. It is also capable of data and AV connectivity enabling easy access to network connections, projectors, and monitors.
We test every pin on every connection in every socket
All units are manufactured using ISO9001 quality controlled components and practices and are 100% tested before dispatch.

cord options: GST08 male to female leads are required to interconnect our DC power products such as the QikFit 30 PSU and QF05 TUF-R®

/HP. 

Available in 0.5m (19.7"), 1m (39.4"), 1.5m (59.1") and 2m (78.7") lengths. 

materials – body and fascias – polycarbonate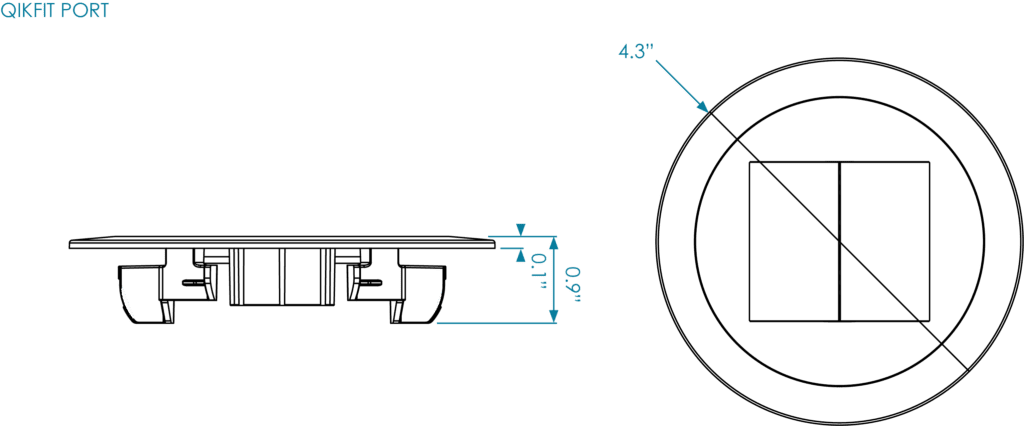 all your questions answered
What power and data modules can be specified in QF PORT?
The following QF05 modules :
QF05 TUF-R HP*
Blank fascia
Removable blank fascia
HDMI keystone coupler
3.5mm stereo keystone coupler
USB type C keystone ext cable
USB 3.0 Type A keystone ext cable
Cat5e/Cat6 data
VGA 300mm M-F
Pull through fascia (please inquire)
*Note: QF05 TUF-R HP will require connection to OE's QF30 PSU (Power Supply) or QIKPAC Battery