USB MODULE | NO EXTERNAL PSU REQUIRED


• Up to 65W Power Delivery from the USB-C with TUF | PROTECT
• Designed for use without PSU
• 12W from the USB-A
QF15 TUF HP is the latest product in a line of high-power USB options from OE. With a maximum output of 65 Watts, QF15 TUF HP powers laptops up to 65W through the USB-C port while allowing phone and tablet fast charging via the USB-A port.
QF15 TUF HP connects directly to mains AC power with OE's standard GST18 connector. Installing QF15 TUF HP is simple in surfaces from .04" (1mm +) and thicker via integral mounting clips, frames, and enclosures. 
Available in white and black.
We test every pin on every connection in every socket
All units are manufactured using ISO9001 quality controlled components and practices and are 100% tested before dispatch.

cord options:  NA
materials – body and facias – polycarbonate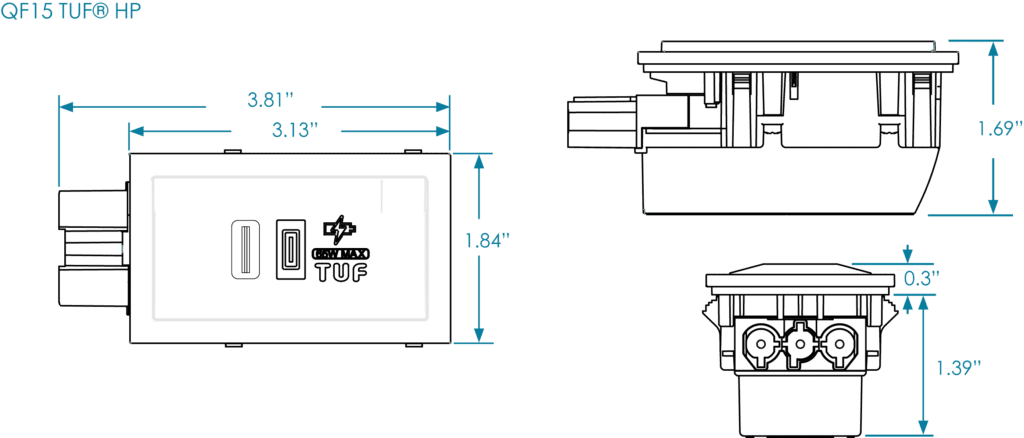 all your questions answered
How many insertions has the module been tested to withstand?
QF15 TUF HP has been independently tested to over 10,000 insertions.
What is the difference between TUF-R HP  and QF15 TUF HP?
TUF-R®/HP provides 75W of power and requires a PSU.  QF15 TUF HP provides 60W of power and does not require a PSU.