3 power solutions in one compact unit
International AC socket options
25W A+C USB charging
10W ARC wireless charging
In order to meet the growing need for easily accessible mobile device charging our new PixelARC combines a mains AC socket, together with USB charging and wireless charging in one compact unit.
PixelARC's integral TUF 25W A+C USB charger can fast charge up to two mobile devices, at the same time as wirelessly charging a Qi compatible phone on the 10W ARC wireless pad and a laptop via the AC socket. PixelARC is thus an ideal 3 in 1 power solution for providing convenient mobile device charging in breakout areas, meeting rooms, hotels and cafes and many other interior locations.
PixelARC can be specified with a wide range of international power socket options, including UK fused to aid compliance with BS6396. Installing PixelARC is quick and simple, requiring just a standard a 80mm grommet aperture and a nearby below surface AC socket outlet.
Technical Info
Configuration
Populate PIXELTUF with:
– 42mm power socket of your choice
– TUF A+C 25W USB charger
– 10W ARC wireless charger module
Data/AV
Any single data or AV cable up to 9mm diameter via data knockout
Wireless Specifications
Output power: 10W Max (DC5V 1A / 9V 1.1A)
Input power: 15W Max (DC5V 2A / 9V 1.67A)
Standby power: 0.45W
Charging Z-distance: 0 – .3" (0-8mm) (coil to coil)
Surface cutout: 3.15" (80mm)
Certification: Qi certified, FCC part 15
In the box: PixelARC, USB-A to Micro-USB cable (wireless module can be powered up to 10W from a standard USB type A outlet or power adapter sold separately)
Power and Cord
Wired standard with a 32" cord (14/3 SJT) to a male GST connector to be used with OE's pluggable GST system and is available by special order wired with a NEMA 5-15 cord and plug. The GSTlead option requires a starter cord: 72" or 108" cord with female GST connector, NEMA plug, and Integral OCP standard. PIXELARC module connects via the supplied 6' (2m) USB A cable and requires an external 9Vdc supply sold separately.
Cable management
PixelARC incorporates a convenient integral attachment point for OE's Pathfinder wire manager standard
Colors
Housing: black or white
Socket fascia: black or gray (NEMA TR sockets – black only)
Mounting
PixelARC fits into an industry standard 3.15" (80mm) grommet hole. Simply remove the clamp ring, feed the cables through the opening and orient the unit and tighten the clamp ring. Compatible with surfaces .04"(1mm) to 1.57" (40mm)
Unit Dimensions: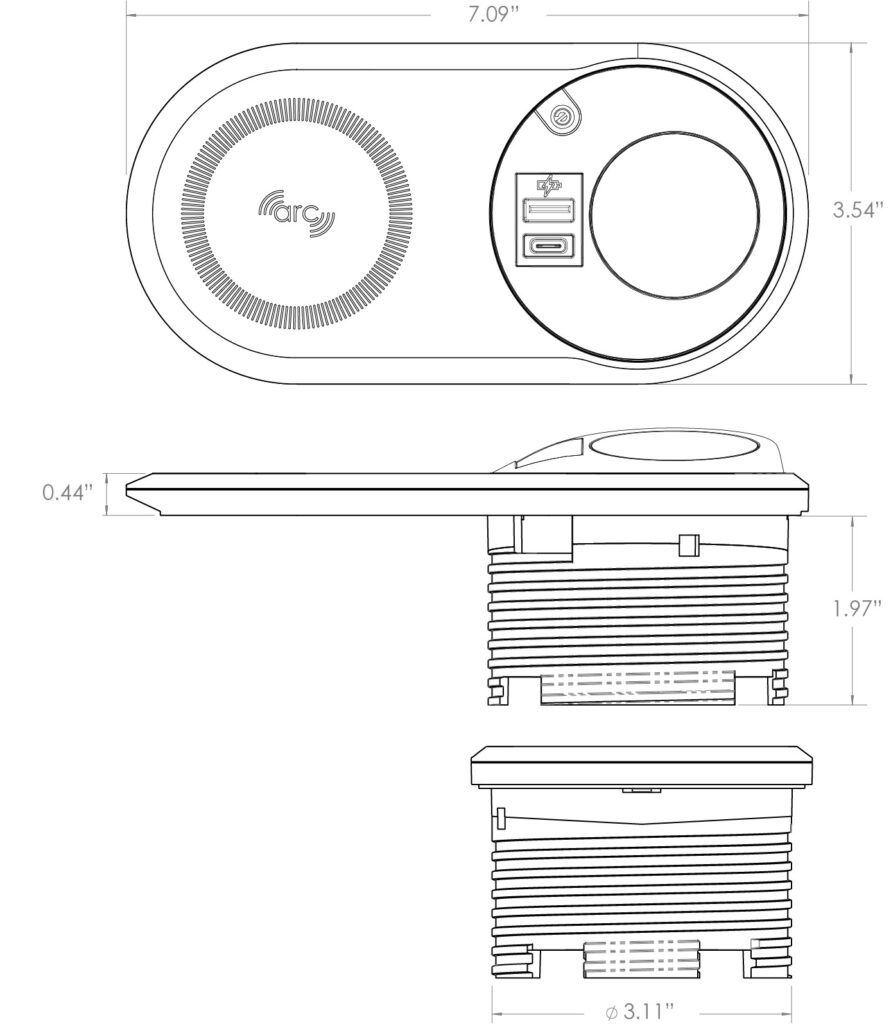 Quality & Testing
All PIXELARC units are manufactured using ISO9001
quality controlled components and practices, and are
100% tested before shipment
• Visual: Configuration and appearance
• Power sockets: Continuity, polarity, insulation & ground
• TUF A+C 25W USB charger: Fully function tested, as well as 4 hour "full-load" soak tested"
• Data & AV: 100% continuity tested; all orders are batch tested for performance compliance
"we test every pin in every socket in every module"
Certifications
cETLus – UL962A / CSA22.2
International certifications available upon request.