How USB charging can improve productivity in the workplace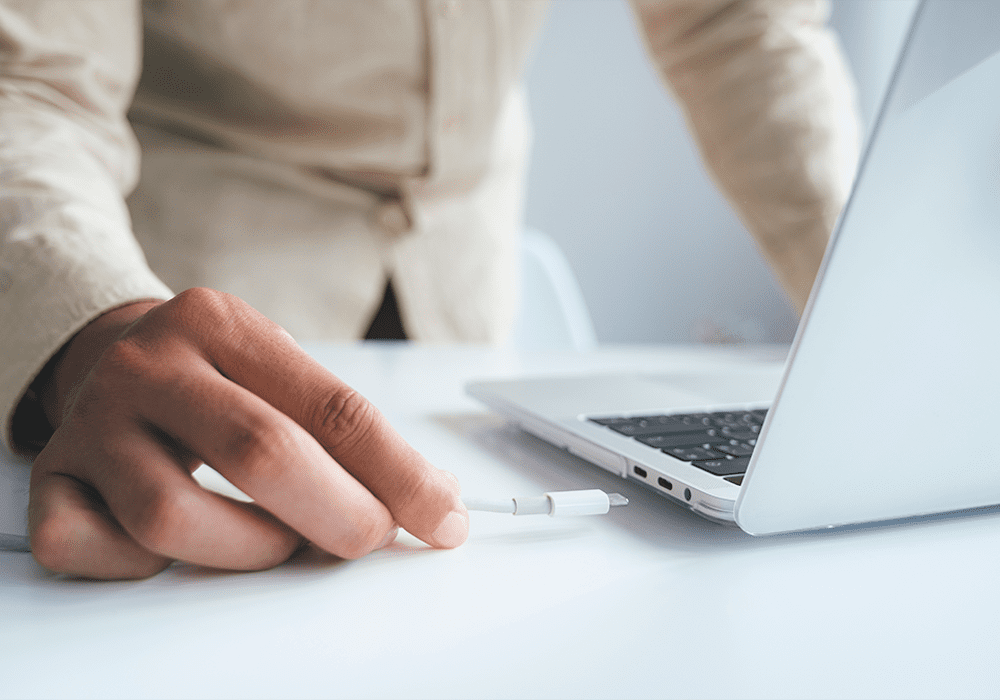 Why workers need accessible power in the office
The changing role of the office
Next generation power expectations
// WHY WE NEED POWER MORE THAN EVER IN THE WORKPLACE
In the modern world, personal electronic devices have become indispensable tools for communication, work, and entertainment. The constant need to stay connected has even given rise to a term – 'nomophobia,' describing the fear of being without one's mobile devices. Recent statistics reveal that the average smartphone user interacts with their mobile device over 2,600 times a day*, and about 90 percent of people suffer from 'low battery anxiety.' In a world where digital connectivity is vital, ensuring that your devices stay charged is crucial.
of people experience low battery anxiety
' The survey found that nearly nine out of 10 people "felt panic" when their phone battery drops to 20 percent or lower.  – LG Low Battery Anxiety Survey
* Mobile touches: a study on how humans use technology – dscout.com

// EMPLOYEE EXPECTATIONS OF THE OFFICE
In the wake of remote work trends and changing commuter habits, it's increasingly essential for businesses to consider the productivity and satisfaction of their employees. With the shift towards hybrid work patterns, the commercial office space is evolving, and it's now more critical than ever to provide convenient, accessible charging solutions to meet the demands of a tech-reliant workforce.
In
Gensler's 2023 global workplace survey,
workers reported that they "need the office for productivity". As part of that, Gen Z and Millenial employees showed to be more likely to come into the physical office more days if it offered spaces and experiences "beyond their individual workspace". Highlighting the importance of enabling staff to work in a variety of ways and locations around the office be that a collaborative zone or designated quite space. 
of respondents say they need to work from the office more for their productivity.
As people embrace the freedom of remote work and flexible office schedules, the commercial office space must adapt to cater to the needs of its employees. Just as train operators aim to provide a pleasant journey for their passengers, office managers and employers must offer a conducive workspace. In addition to amenities like temperature control and noise reduction, providing reliable power sources is now a necessity, not a luxury. Accessible charging stations for personal devices, including smartphones, laptops, and tablets, are pivotal for enhancing employee productivity and satisfaction in the workspace.
/ / BEYOND TRADITIONAL POWER
Traditionally, commercial office spaces have provided AC sockets for charging devices, but this approach falls short of meeting the diverse needs of today's employees. Many professionals dislike carrying bulky laptop chargers, which are inconvenient and often difficult to store. To ensure productivity in the workplace, office designers and managers should prioritise the integration of universal power sources compatible with a wide range of devices, accessible to all employees no matter where they choose to work. 
The transition from conventional USB-A outlets to the more versatile and reversible USB-C connectors has the potential to revolutionise the charging landscape in commercial offices. USB-C connectors provide not only an easy and secure connection but also higher power capacity, suitable for charging laptops. The widespread adoption of USB-C in modern laptops makes it a feasible solution, allowing employees to replace cumbersome laptop chargers with high-power USB-C cables. This transition is further supported by new legislation, such as the European Commission's requirement for common chargers for all small electronic devices. Read more on that
here
.
/ / NEXT GENERATION POWER OPTIONS
While wireless charging has gained popularity, it's not likely to become the new standard in the commercial office space due to its inefficiency and longer charging times. Understanding the diverse power requirements of employees is essential. Charging smartphones is only part of the equation; many professionals need to charge their laptops while working on the go. High-power USB-C sockets offer an ideal solution, providing safe and efficient power for laptops and smartphones alike.
Embracing USB-C as the default charging option in commercial office spaces is not only more efficient but also environmentally friendly. It promotes compatibility and enhances safety while preventing the generation of thousands of tons of electronic waste.
While younger employees are already familiar with USB-C charging, a transitional period would allow others to adapt to the new technology. Ensuring the functionality, data security, and integrity of USB outlets is vital to build employee confidence. Fortunately, advances in technology have made this transition smoother, as many modern devices, from Bluetooth headphones to laptops, now charge via USB.
Making these accessible chargers available in commercial office spaces is essential for boosting productivity and employee satisfaction. Providing reliable, universal charging options will empower employees to work efficiently, ensuring they can stay connected and productive, whether in the office or on the go.
To facilitate this transition and ensure the best charging experience for employees,OE Electrics offer innovative solutions like the TUF Twin USB Charger, designed to be repairable and replaceable to accommodate ever-evolving technology. Available in different forms, making it versatile and easy to integrate into office furniture or power modules. Equipped with TUF | PROTECT technology that monitors and manages itself to ensure safe and efficient charging. It exclusively supports power delivery, eliminating data connections or privacy concerns. 
For under-utilised areas where access to power limits use of the space, discover QIKPAC CARRY mobile power. 
// WANT TO COMPARE YOUR OPTIONS?
Click the button below to download our guide to TUF USB technology.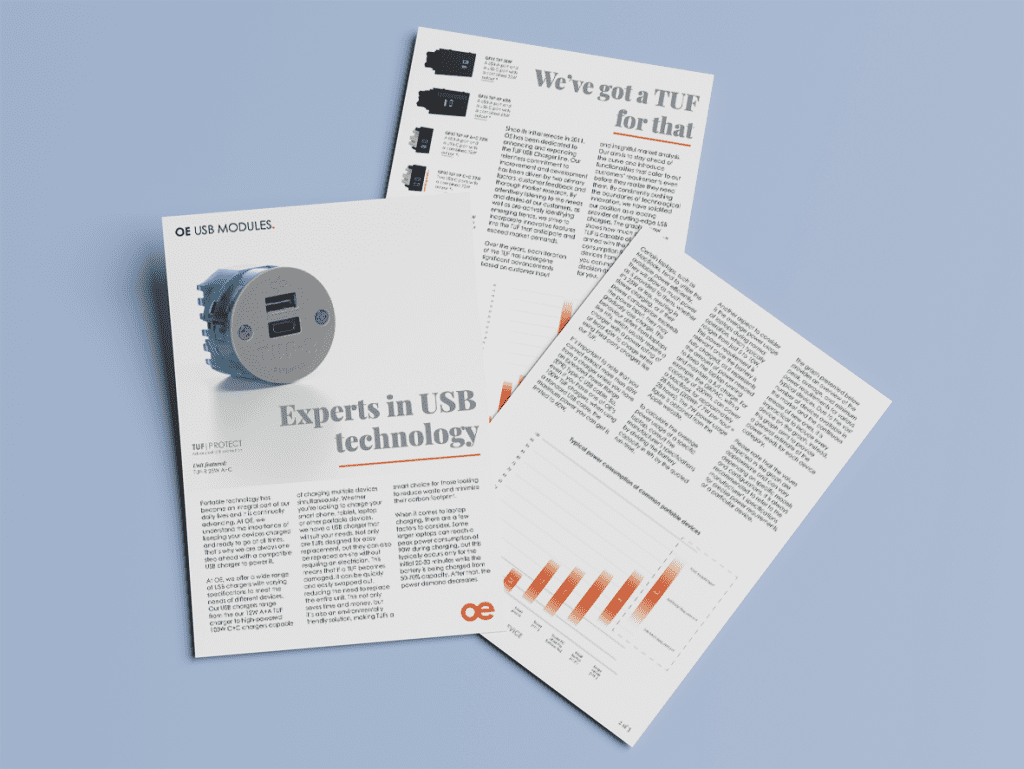 OE are experts in powering spaces.
Tell us about your project or get in touch with any questions you have.