Cable management and Wireless Charging in one compact unit
10W Advanced Resonance Charger
Tool-less mounting
Locking nut for secure mounting
ARC-G extends the high power wireless charging capability of our ARC-80 unit to include convenient cable management in one compact solutions. ARC-G offers no-fuss mounting, simply secure into a standard 80mm grommet hole with the provided locking nut to offer a 2-in-1 wireless charging and cable management solution.
With its 10W maximum output and Qi compatible transmitter coil, ARC-G will provide fast wireless charging on all compatible phones. Available in both white and black, and moulded in high strength polycarbonate, ARC-G is ideal for adding wireless charging capability in public areas as well as offices.
Technical Info
Wireless Charger Specifications: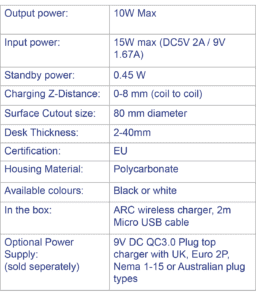 Unit dimensions: